Thursday 10 October marks World Mental Health Day, a global event that raises awareness and gives us the headspace for reflecting on the scale and impact of the global mental health challenge.
As well as building awareness about promoting good mental health and well-being, as seen by the NHS Every Mind Matters campaign, it also presents an opportunity to look at the immense amount of scientific research that goes towards supporting better mental health.
Just  here in Oxford alone, there are centuries of history when it comes to mental health research. The Psychiatry Departments' recent 50th birthday celebrations helps provides a snapshot of some of this history. Furthermore, recently, it was researchers at Oxford who helped pave the way for Cognitive Behavioural Therapy as a first-line treatment for common mental health disorders.  
However, we are currently at the crest of a wave when it comes to building a brighter future for mental health research across the UK. 
UK Research and Innovation (UKRI), the consolidated body of all UK scientific research councils, instigated one recent leap in supporting better mental health research. Their establishment of eight mental health networks, each supported by a £1 million grant, helps ensure a greater scope of people are involved in supporting mental health research, and ultimately, improve the quality.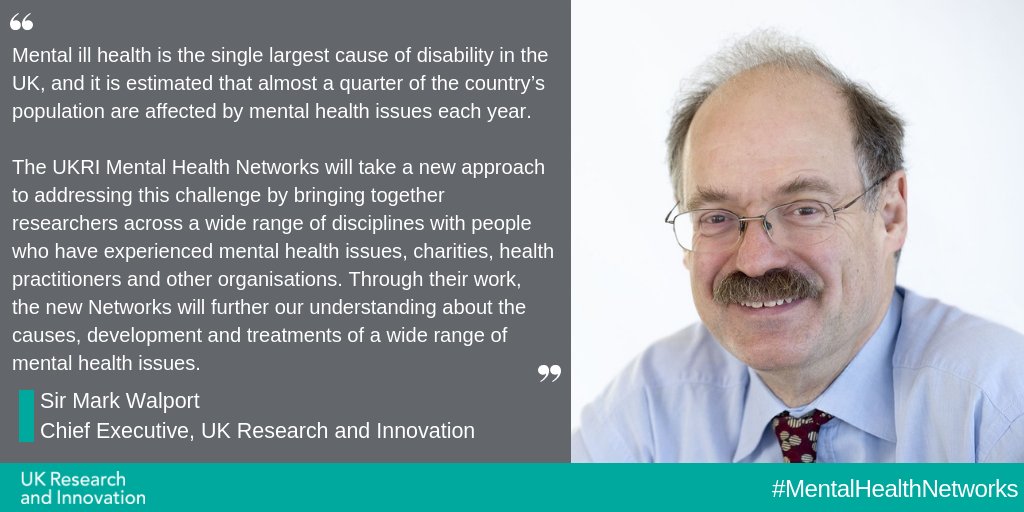 The £8 million Networks – funded by UKRI and the government's modern Industrial Strategy for four years (one for three) – will embrace a collaborative ethos, bringing together researchers from a wide range of disciplines (source: UKRI).
Moving away from a background of having solely universities and clinical centres as mental health research centre, the mental health networks, each with different aims, will bring together charities, people with lived experience and universities to produce high quality research output. An example includes 'Closing the Gap' Network, a York University hosted network that aims to level the playing field with life expectancy in people with severe mental health conditions like schizophrenia, who can expect to live 20-25 fewer years than someone without a severe mental health condition.
 Prof Elaine Fox, UKRI Mental Health Networks new Impact and Engagement Coordinator
In a role that is allowing Oxford to build on its proud legacy of mental health research, Professor Elaine Fox of the Department of Experimental Psychology has been appointed by UKRI as the national Mental Health Impact and Engagement Coordinator. This crucial role is to support the overall aims of the Mental Health Networks of improving mental health research in a collaborative, multidisciplinary way,
Elaine's new role gives her a unique 'top-down' perspective on all eight of the UKRI mental health networks in order to support their role, which has three key aims: public engagement and enhancing the public imagination of mental health research, building a collaborative, multidisciplinary research environment amongst the Mental Health Networks, and informing future policy for mental health research in the UK.
In her new role, a diverse team of organisations, whose variety reflects the strategic makeup of the Mental Health Networks, will support Elaine. Dr Vanessa Pinfold of the McPin foundation will help to ensure that the perspective of people with lived experience of mental health problems will be at the forefront of Elaine's team. André Tomlin and the Mental Elf Foundation and their extensive digital footprint will bring the social media component and support the dialogue and conversations surrounding mental health and research. Sallyann Keizer of Sixth Sense Media will bring their extensive media production expertise to engage and empower people about the importance of mental health research.
In her supporting role, Elaine will have a diverse support team, helping her achieve the aims of the Mental Health Networks. 
As well as building capacity throughout the networks to integrated research outputs, one key area of focus for Elaine and her team is supporting the work of Early Career Researchers in mental health research.
Capably supported by Dr Sam Parsons, his role will be to help build future generations of mental health researchers who can work in a multi-disciplined environment. Sam will help the ECRs of the networks by inculcating those from many disciplines, including those with expertise from lived experience, with a common aim of researching solutions for better mental health and well being. 
There is certainly a lot of work to do for Elaine and her team. Early priorities include conducting extensive surveying and insight work to build a snapshot of activities across the eight mental health networks. In doing so, Elaine and her team can help figure out opportunities for collaboration. This is not going to be easy given the scale and scope of the networks. In time, effective national public engagement campaigns can be built to bring mental health research into the public imagination. Ultimately, there could be the potential for huge evolutions in the mental health policy landscape.
Mental health research itself is not new in the annals of health research. However, the establishment of the UKRI Mental Health Networks, now supported by Elaine represent a step-change in the way future mental health research is conducted. If effective solutions for better health and wellbeing is developed from the networks, then there is huge potential for a better future for those with mental health problems.